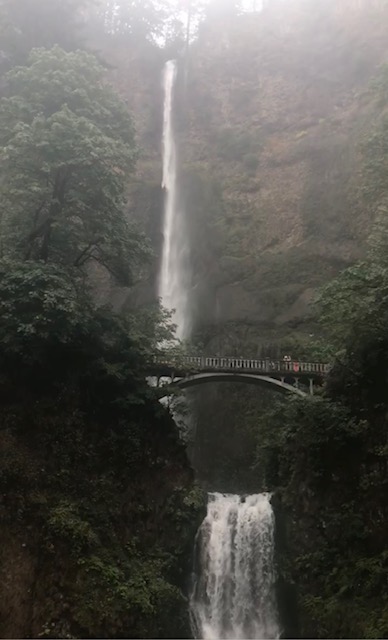 Hi Folks!
Today, we released "Multnomah Falls (Acoustic)!" It's the last of the three "Acoustic" singles that I was asked to record for radio in a singer-songwriter format, after the release of my The Crosswinds of Kansas album.
Americana Highways Premiered the song on March 6th and said:
"Americana Highways presents this premiere of Bill Scorzari's song 'Multnomah Falls (Acoustic).'  The song first appeared on his recent release The Crosswinds of Kansas, but not in this acoustic form. Bill is going to release three songs… in their acoustic formats.  This one will be available on March 10. …
The song was recorded at Bill Scorzari's First Thunder Recording Studio in Huntington, NY and the abridged songs were mastered by Jim DeMain at Yes Master Studio in Nashville in 2022.
"Multnomah Falls (Acoustic)" was written, produced, and performed by Bill Scorzari. Gentle acoustic melodies, and then Bill's raw whispery-gritty vocals ease in thoughtfully over the top.  …
'There are so many directions from which to approach the presentation of a song idea. The version of "Multnomah Falls" on The Crosswinds of Kansas album was to a great extent driven by my intention, from the moment that I began writing it, to include it on a studio album of songs performed by a full band. It's a really great feeling when you finally make your way to the end of that creative road and can sit back and listen to how it all plays back to you.
I love how the ideas that I had imagined for the album came to life, and when I was asked to re-interpret some of the songs as an alternate, 'solo-acoustic' performance for radio, I wanted to show as much contrast as possible to the album versions. Changing the tempo and mood on 'Multnomah Falls,' and shifting the focus to just a single instrument, makes the lyrics more central to the delivery of the song and brings what I feel is a very different listening experience between the more intimate acoustic version and the fully arranged album version.
I hope you enjoy listening to the 'Acoustic' singles of 'Multnomah Falls,' 'The Broken Heart Side of the Road,' and "I-70 East as much as I enjoyed reimagining and recording them. — Bill Scorzari' 
Here's a link to the full Premiere: AMERICANA HIGHWAYS PREMIERE
You can listen to "Multnomah Falls (Acoustic)" today! 
… at this link:  https://billscorzari.hearnow.com/multnomah-falls-acoustic
You can also read Americana Highways' previous coverage of the full album The Crosswinds of Kansas, here: REVIEW: Bill Scorzari "The Crosswinds of Kansas"
Thanks for listening!
With much love and gratitude,
Bill S.
P.S. Check back here from time to time for more info and for the latest news about my next album which I just recently began recording and which I hope to have ready to share with you in the most expeditious days to come!