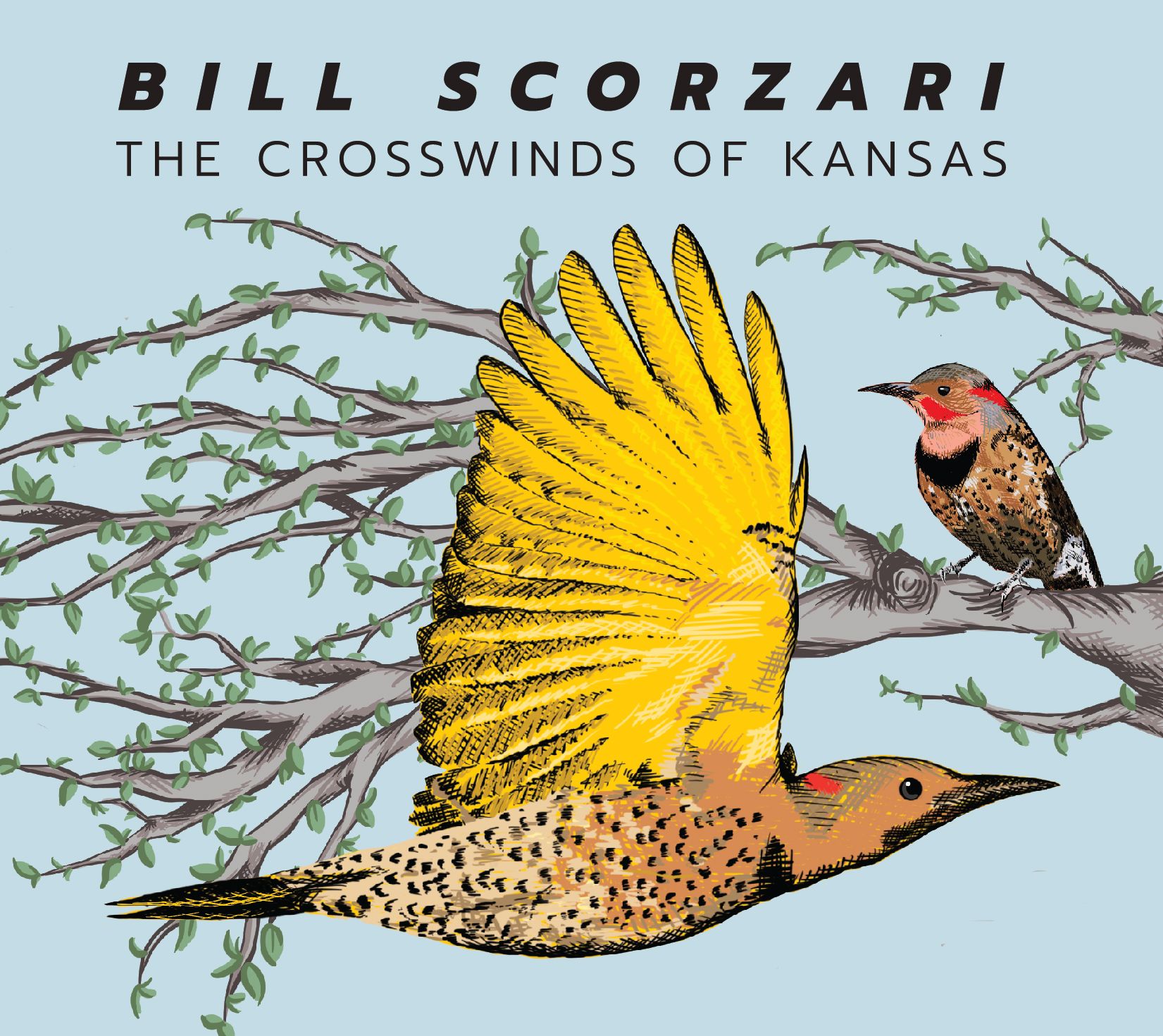 Hey Folks!
 
We've got some exciting news to share with you! 
In just three days from today, I'll be releasing my fourth studio album: THE CROSSWINDS OF KANSAS! 
We've put our hearts and souls into this record and we're excited to finally be able to start sharing it with YOU! 
The CD is a Six-Panel Digipack and includes a 16-page Lyric Book. It's all beautifully decorated with original art by Anna Berman and with photography by Jacob Blickenstaff. Here's a link to everywhere you can order the CD today, and also where you'll be able to pre-save the digital album today, or save and stream it starting on the August 19, 2022 release date: ORDER / SAVE / STREAM (Sorry, vinyl is not yet available for this album).
The album was released to radio in mid-July of 2022 and has already made it onto the Alternative Country Specialty Top 20 Chart, climbing up from #30 on August 3rd, to #19 on August 10th. 
…AND, HERE'S WHAT THE CRITICS ARE SAYING: 
"The Crosswinds of Kansas… from New York–based singer, songwriter, and multi-instrumentalist Bill Scorzari… may be his best yet. That's saying plenty given the excellence of such earlier efforts as 2017's Through These Waves and 2019's Now I'm Free. Scorzari's raspy vocals... add weight to his wise, poetic lyrics and contrast beautifully with the album's frequently sweet-sounding music… Songs like "All Behind Me Now" and "Inside My Heart" will have you hanging on every word and wondering why Scorzari isn't famous yet."
-AMERICANA HIGHWAYS by Jeff Burger/ August 12, 2022 
"Singer, songwriter, Americana hypnotist Bill Scorzari effortlessly captivates with his forthcoming 'The Crosswinds of Kansas'... If you're familiar with his work at all, this will come as no surprise. ...Scorzari's vocals immediately grab hold of your attention with this or any of his previous work, bleeding with honesty and conviction while gravelly capturing your imagination... The mixed textures of Crosswinds spellbind ...will have you diving into the lyrics, the assemblies, and contributions of each of the thirteen tracks. ...in a testament to the collective artistry and vision of Scorzari and supporting fifteen musicians. ...Bill Scorzari is more than Americana or some offshoot of country. ...He is a songwriter who, years from now the next mainstream rock success will reference as a turning point discovery in their life. To review Bill Scorzari seems counter-intuitive. Scorzari's music reflects against your own experiences... It makes sense to the roads you've travelled and the emotions you've felt. It is precisely that connection that makes Bill Scorzari more than a singer-songwriter, he is a modern gem and deserves to be recognized as such. The Crosswinds of Kansas is no exception, it is yet another exhibit to reinforce the sentiment. ..."
-NANOBOT ROCK / August 12, 2022 
"The Crosswinds of Kansas? Another level. …Each song envelopes the listener, sharing its secrets and truths. …Man, to have been gifted such concise wisdom… there is always something new to capture your attention, something previously missed that reveals itself as it must. …I've not discovered many albums the quality of The Crosswinds of Kansas this year. I think that speaks more about Bill Scorzari than it does to what I've been listening to. A masterful creation…"
-Fervor Coulee by Donald Teplyske / August 4, 2022 
"...His voice is the essential heart of his music and of this album as it delivers his thoughtful, crafted lyrics in a way very few others could... It is the kind of music that envelopes you. ...something that tends to bring you closer to its heart with frequent listening." 
- Lonesome Highway by Stephen Rapid / July 24, 2022 
"BILL SCORZARI IS A MASTER STORYTELLER. HE PUTS IT TO MUSIC AND CREATES PURE MAGIC!!"
- THE COLFAX CHRONICLE - JAY VEE MUSIC REVIEW by Jeff Vallet / July 22, 2022 
"...Scorzari's message is powerful and profound. ...this listener cannot get enough of "All Behind Me Now", "Try, Try Again" and the eleven-minute glorious, meditative opus "Tryin', Tryin', Tryin', Tryin'". Oh, and "Patience and Time" might well be the most tender and loving song I've heard this year. ...The Crosswinds of Kansas is an indisputable triumph… an utter joy to review." 
- Listening Through The Lens - by Rob Dickens / July 20, 2022 
Click here for more reviews.
---
ALBUM CREDITS: 

Co-Produced by Bill Scorzari and Neilson Hubbard, the recording of the 13-song album was started at First Thunder Recording Studios in New York by Bill Scorzari during the pandemic in 2020 and 2021. The Recording and Mixing were later completed at Skinny Elephant Recording in Nashville, Tennessee by Engineer, Dylan Alldredge in 2021 and 2022 and the album was then Mastered by Jim DeMain at Yes Master Studio, in Nashville in 2022. 
---
…AND, HERE ARE THE MUSICIANS YOU'LL HEAR PERFORMIMG ON THE ALBUM: 

Bill Scorzari - Main Vocal (All tracks); Navajo Vocal (Track 13); Harmony and Backup Vocals (Track 13); Acoustic Guitar (All tracks); Dobro (Track 11); Mandolin (Track 4); Electric Guitar (Tracks 1, 3, 13); Native American Flutes (Tracks 2, 13); Tibetan Singing Bowl/Bell (Track 2) 
Brent Burke - Dobro (Tracks 6, 7, 8, 10) 
Chelsea McGough - Cello (Tracks 5, 9, 11) 
Cindy Richardson Walker and Marie Lewy (a/k/a "The Shoals Sisters") - Backing Vocals (Tracks 3, 7, 9, 10) 
Danny Mitchell - Piano (Tracks 5, 6, 9, 10, 11, 12, 13); Hammond B3 Organ (Tracks 1, 3, 12) 
Eamon McLoughlin - Fiddle/Violin (Tracks 5, 9) 
Fats Kaplin - Fiddle/Violin (Tracks 6, 7, 8, 10, 12); Viola (Tracks 5, 9 and 11); Pedal Steel Guitar (Tracks 6, 9); 
Juan Solorzano - Slide Guitar (Track 5); Electric Guitar (Track 5); Baritone Guitar (Track 6, 10, 13); Lap Steel Guitar (Track 4) 
Kyle Tuttle - Banjo (Tracks 6 and 8) 
Matt Menefee - Banjo (Tracks 2, 7, 10, 13) 
Mia Rose Lynne - Harmony Vocal (Track 4) 
Michael Rinne - Upright Bass (Tracks 2, 4, 5, 6, 7, 8, 9, 10, 11, 12); Electric Bass (Tracks 1, 3, 13) 
Neilson Hubbard - Drums and Percussion (Tracks 1, 3, 4, 5, 6, 7, 8, 10, 12); Native American Drums and Percussion (Tracks 2, 9, 11, 12, 13); Wind Chimes (Track 2, 11, 12); Triangle (Tracks 9, 12, 13); Keyboard Bass (Track 13) 
Ty Allison - Navajo Chanting (Track 13) 
Will Kimbrough - Mandolin (Tracks 6, 7, 8, 10) 
---
If you want to check out the Official Videos for the two Singles released from the album and the two Video Trailers showing scenes from the Nashville recording sessions, just follow the links below! 
OFFICIAL VIDEO LINKS:  
"I-70 East" - https://youtu.be/W1iYJ33lATc 
"The Broken Heart Side of the Road" - https://youtu.be/M1oEf5ubatw 
VIDEO TRAILER LINKS:
"All Behind Me Now" - https://youtu.be/kizjQDMlLJE 
"Not Should've Know" - https://youtu.be/0sYLdwJdz0o 
---
I hope you enjoy listening to this album as much as we've enjoyed putting it all together for you! I appreciate each and every one of you, and sincerely thank you for your support and for joining me on this musical journey! 
With so much love and gratitude, 
Bill S.                                               
---
For more info and the latest news, please continue to visit: www.billscorzari.com
 
---